Subaru of New Zealand
Subaru New Zealand is a strong example of the Sparks Drupal platform. Matched with the ability for the Subaru team to manage all aspects of the website, this has created a powerful platform driving innovative marketing campaigns.
The website is the primary destination for a variety of leading marketing campaigns, with tailored landing pages interwoven into the day to day site structure to make the user journey seamless, no matter what media has driven the traffic.
Strategy & planning
Visual design
Responsive front & back end build
Ongoing support & collaboration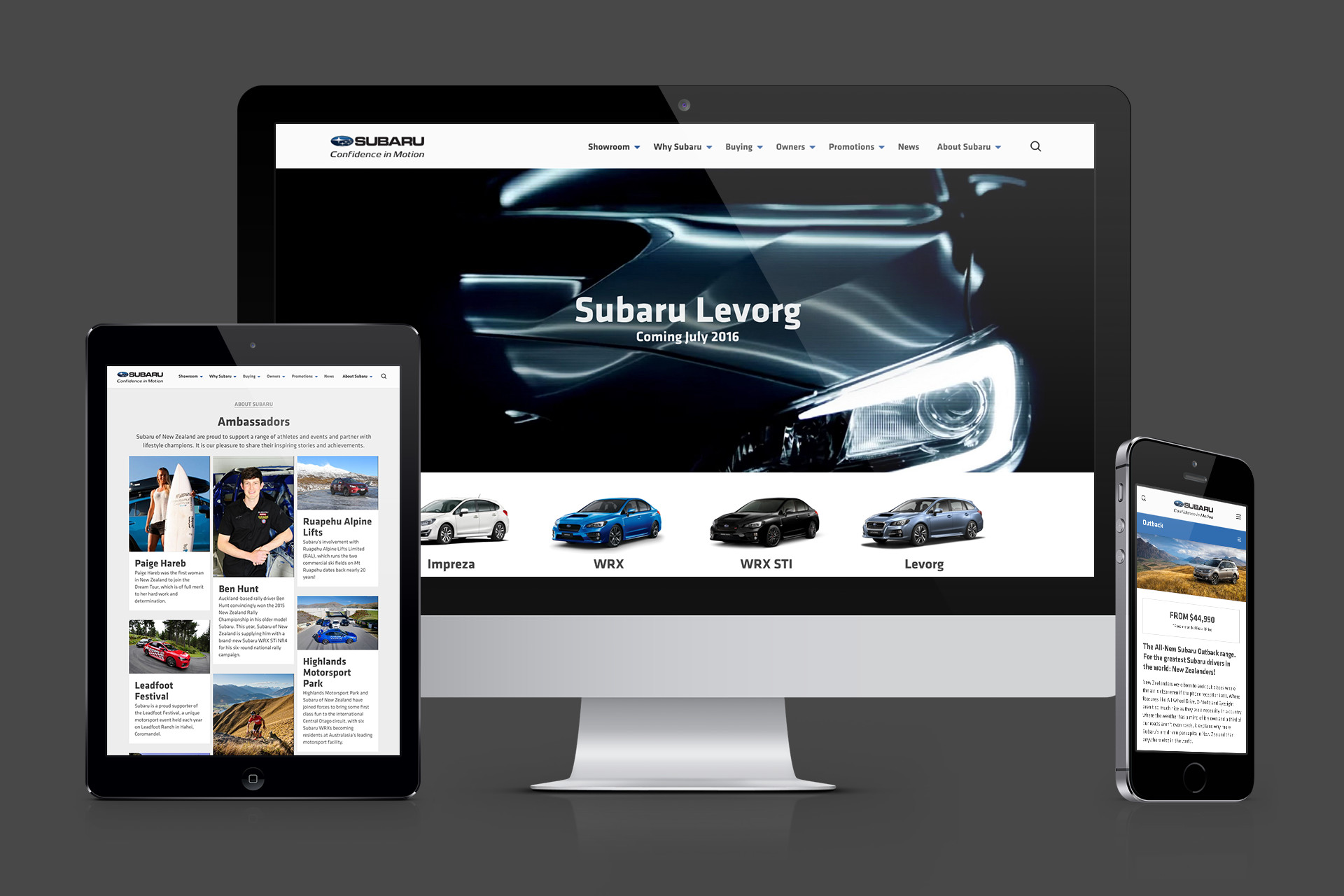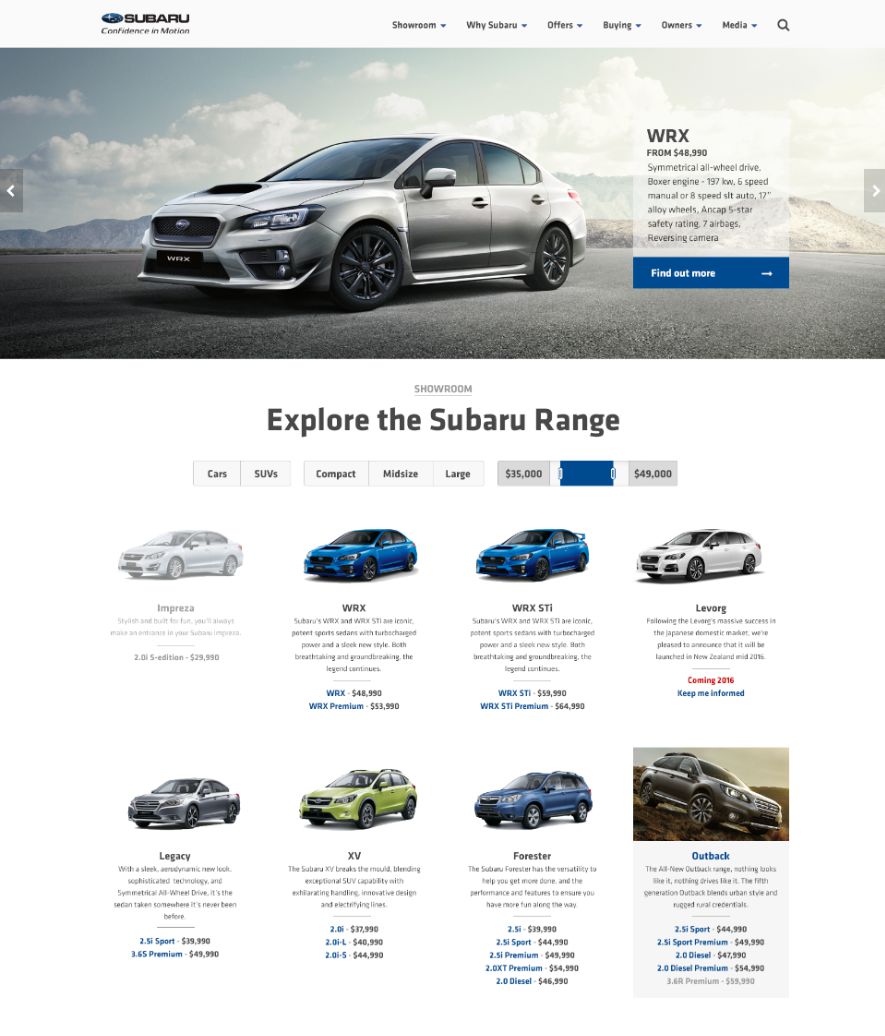 A key role of the website is to support ongoing above the line marketing, taking leads and engaging with users over what can be a lengthy decision making process to purchase a new Subaru. Often a new customer's first experience of the Subaru sales process is the website. It's designed to be as informative as it is aspirational, leveraging rich media that is frequently renewed.
Yes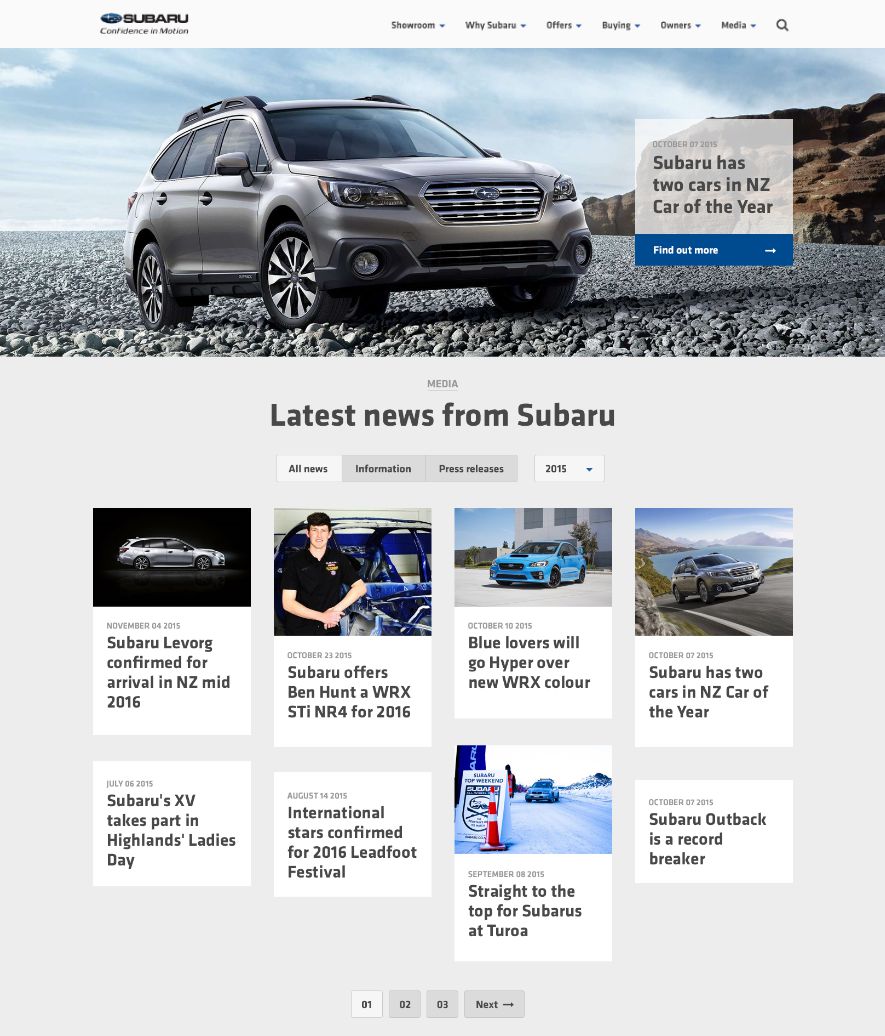 2016 saw Subaru of New Zealand win the TVNZ Marketing Awards (automotive category). Sparks Interactive work closely with Subaru's brand agency Barnes, Catmur & Friends Dentsu to ensure the website is an extension of their award winning marketing campaigns. That relationship works both ways when marketing website based initiatives such as the successful 25 years of WRX promotion.
Yes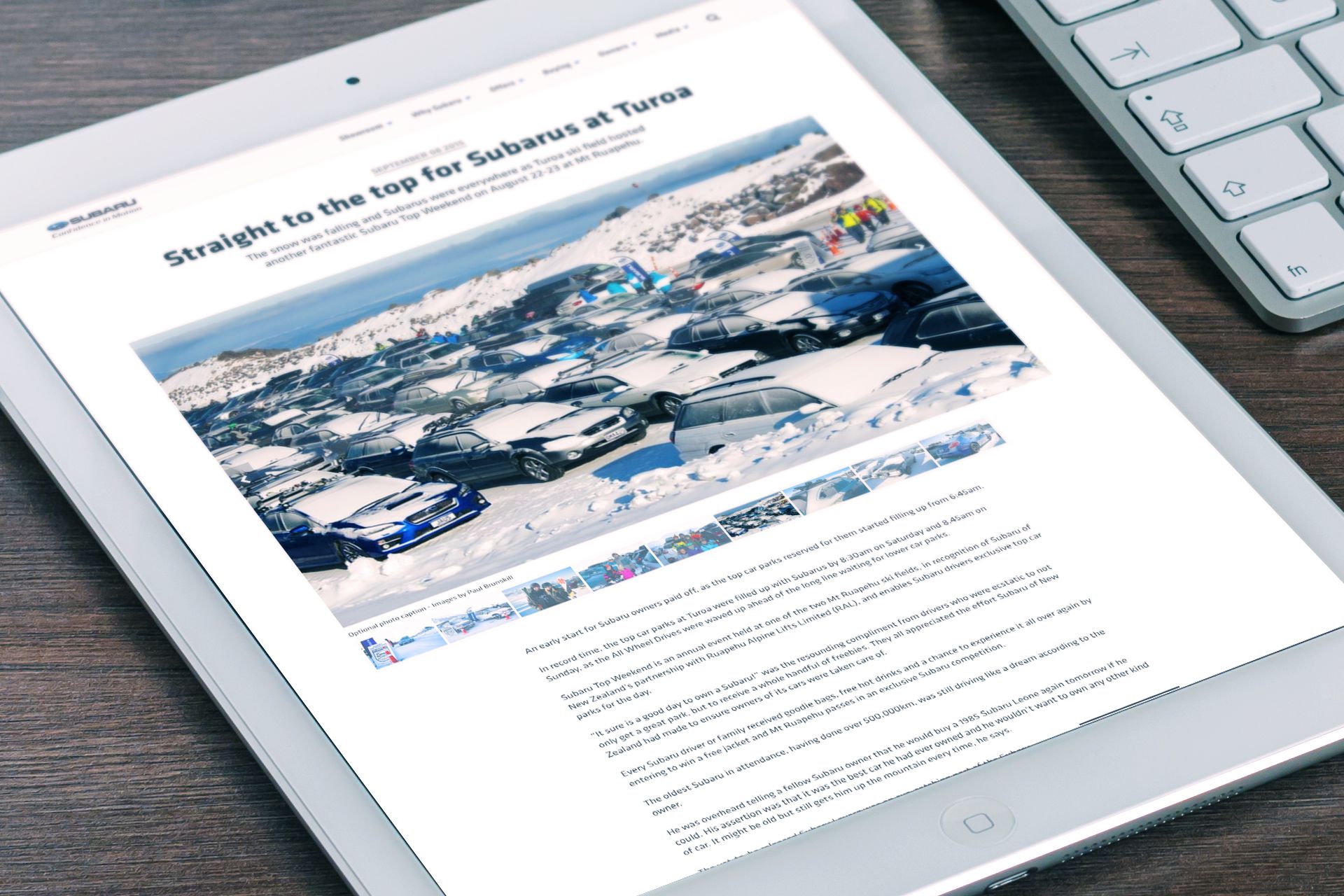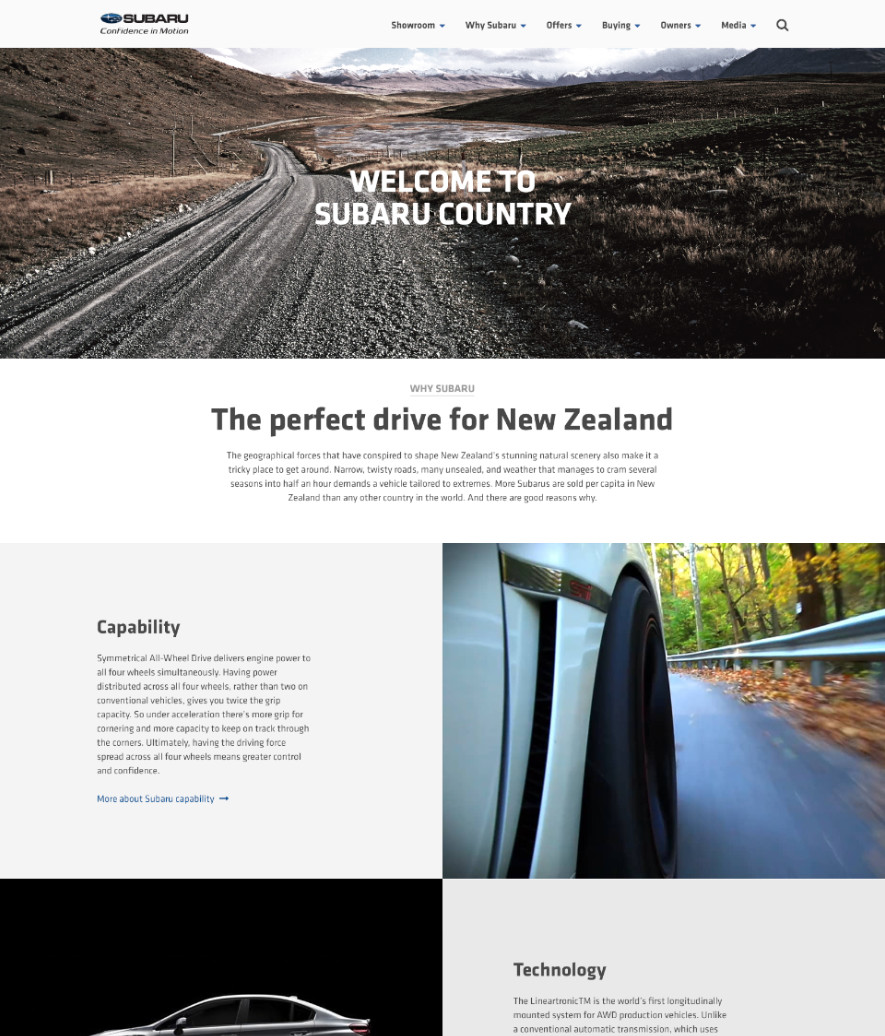 Simplification of the content creation process, and smart use of the Drupal Media module has enabled all aspects of the site to be easily maintained by Subaru staff.
Yes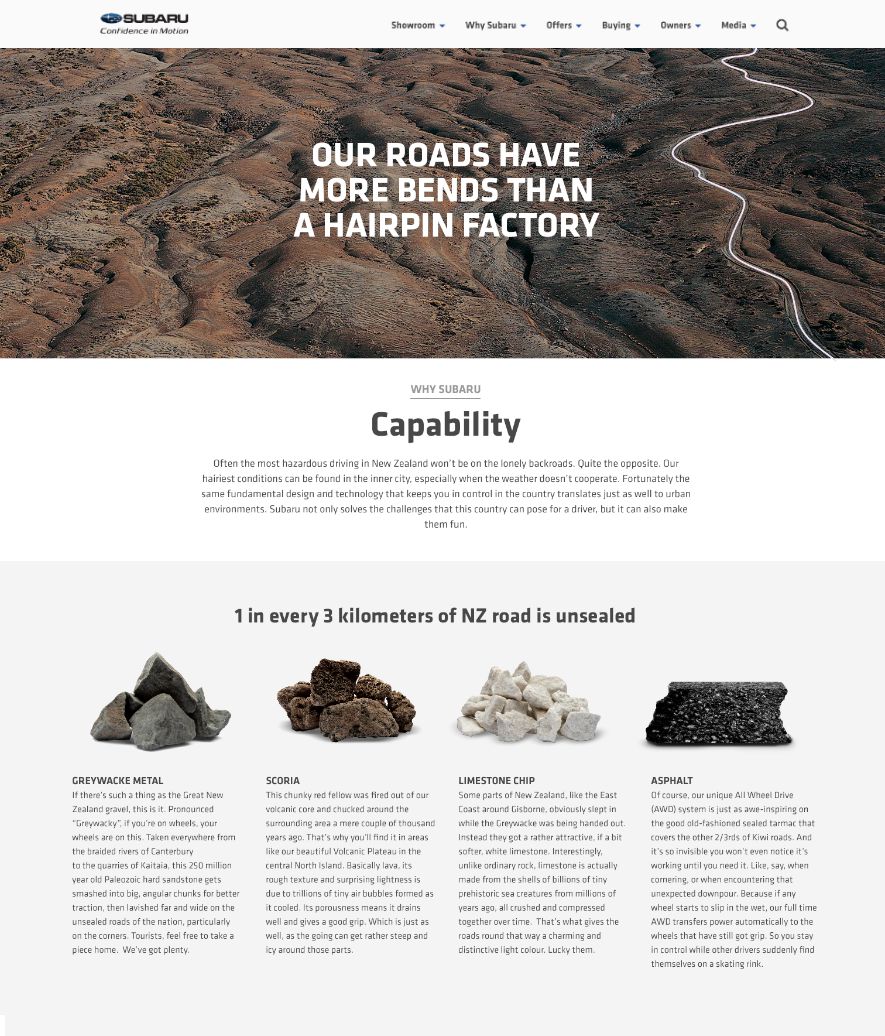 Centralised media allows for content to be stored in a library to make reuse and organisation a cinch, greatly reducing the time required to publish.
Yes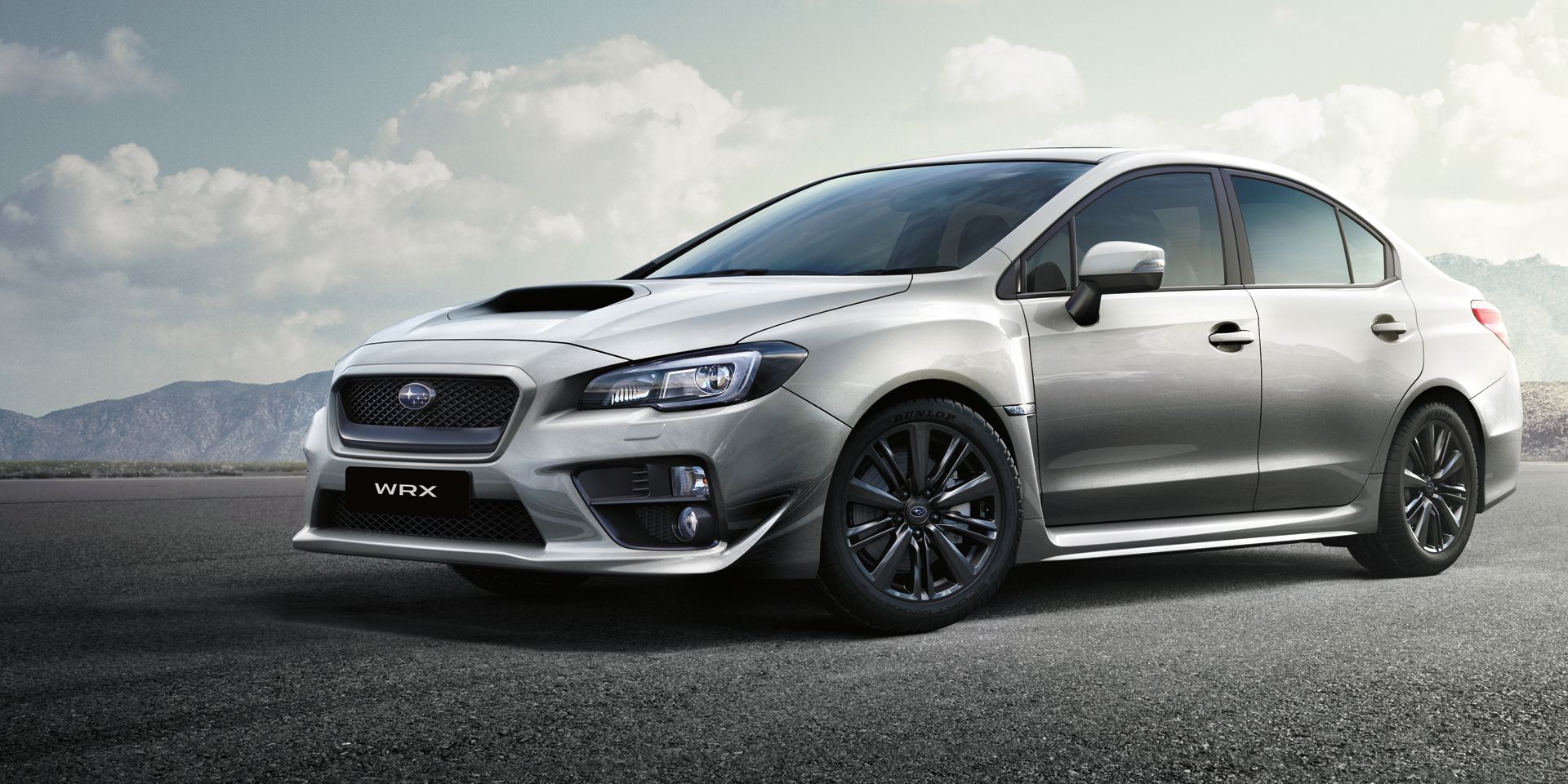 #004b90
The process of building a new website from scratch is often quite an overwhelming project to tackle, with attention to detail required at each milestone of the build.
Working with Sparks Interactive was easily the best experience I've had on a website build. Sparks have a professional deadline focused approach, and yet they never seem stressed, even at critical phases of a project. Sparks took on all the heavy lifting of our website design and build, they are very solutions focused – nothing was ever an issue.
Our brief was to simply build a site which provides an excellent customer experience across all devices, while empowering the Subaru team to be able to take ownership of the site. We didn't want to be tied down to web developers every time we wanted to create a page or build a form. Sparks took this on board and built a site that has exceeded expectations. Analytics are already demonstrating return on investment, and we are also enjoying evolving the site together following the launch. We look forward to a long term future with the team.
If you are looking for new digital business partners, I highly recommend you get in touch with Sparks.
Daile Stephens. Subaru of New Zealand Marketing Manager
If you need a clean, modern website design that engages both head and heart then talk to us. Hayden can talk you through the creative process of bringing an iconic brand to life online and would be more than happy to discuss how to make a content managed site that works for marketers and engages with your audience.